Get A Tent Designed By Leading Tentmakers!
All-Weather Pavilion Sunbrella Tent Systems.
Tent system includes: Sunbrella roof with fire marshal cert sewn in, Sunbrella walls and pole covers; also, set of back braided ropes, heavy duty J-stakes, top finial, and all the custom steel parts.
Oakenfoot Faire Tents go up in 60 minute with the help of a second person for 10-minutes.
Made in USA.  Team "Oakenfoot" is located in Frazier Park, California.
Thank you for shopping with Oakenfoot Faire Tents.
Checkout our amazing collection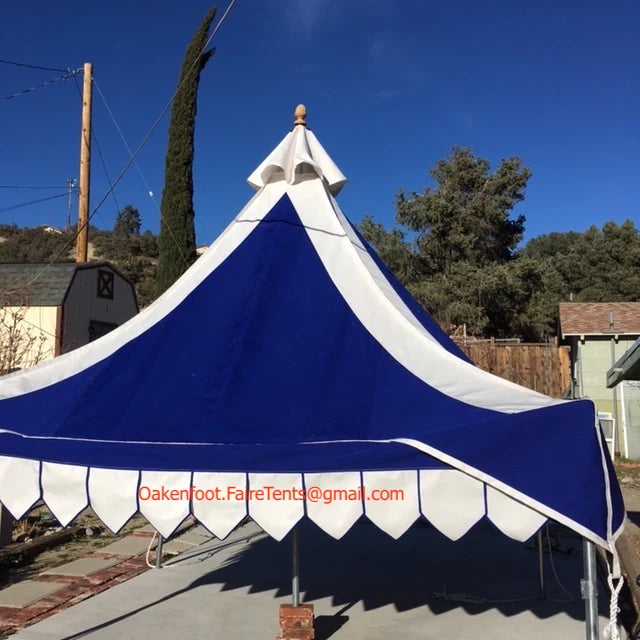 How Are We Able To Meet Your Requirements?
We ensure the best quality products to match the requirements of customers. Our primary focus is to :
• Fulfill the commitments within the given time. 
• Provide competitive prices without compromising on quality
• Give fast and safe delivery
• Offer personal involvement with the client
• Work with skilled craftsmen
• Regularly track the production quality
• Have an efficient warehousing facility
• Deal with reliable fabric suppliers 
Shop now
We are the manufacturer of Sunbrella canvas tents. Depending on your preferences, you can choose from an extensive choice of colorful designs and sizes from our collection of tents. With us, you will get the following benefits
Fit For Budget

All of our tents are reasonably priced and are built utilizing both traditional and modern methods. Because of this, they are unique and include benefits like ease of setup and takedown.
Ideal Weight

Our tents are simple to move. They arrive in shipping/storage container. We always interact with clients professionally, ensuring their needs are met within the agreed-upon time limit.
Transparent Workflow

Our team members are transparent when working with customers, offering tailored solutions at reasonable costs
Get The Tent That Suits Your Needs!
Our tents are available in a plethora of colors and designs. Contact us for highly durable and easy-to-maintain tents. We provide camping solutions perfect for all clients!