Oakenfoot
Regular price
$5,000.00 USD
Regular price
Sale price
$5,000.00 USD
Unit price
per
Sale
Sold out
Build-a-tent option use the "customize" button to choose colors and design your tent and then place order of your colorful design.  Team Oakenfoot will make it as you have designed it and FedEx your tent system to you, on time by contract.
Process time 2 - 6 weeks.
10' and 12-footer square new tents are CENTER POLE FREE.
15' and 20-footer tents must become 'seasoned' before they can be converted to center pole free. All new canvas tents stretch so to keep the tent roof tight, shim up the center pole so that weather (wind, rain, snow) will shed off, as designed. Yes, eventually, after they have fully seasoned, they can be adapted to become Center Pole Free as well. Contact us for more details on this point, West Coast time zone: 661-245-3635. We are always happy to answer any of your questions.
Alternative method:
Print out the line drawing and use color pencils to color in the line drawing.

Then email it to: oakenfoot.fairetents@gmail.com
Design what you want, email your dream tent design to us and our graphics department will develop your design and email it back to you. We can do this together.
Many additional colors (and stripes) are available. Details matter.

Questions, want help designing your tent: oakenfoot.fairetents@gmail.com
Note worthy point regarding the large 20-foot tent -- must double up the steel poles by adding 1 3/8" pole up the middle of the center pole. Double up the steel adds needed strength for major weather situations. While sewing the large 20-foot roof we include extra reinforcement.
We are a National company, shipping FedEx to the continental United States currently.
Share
View full details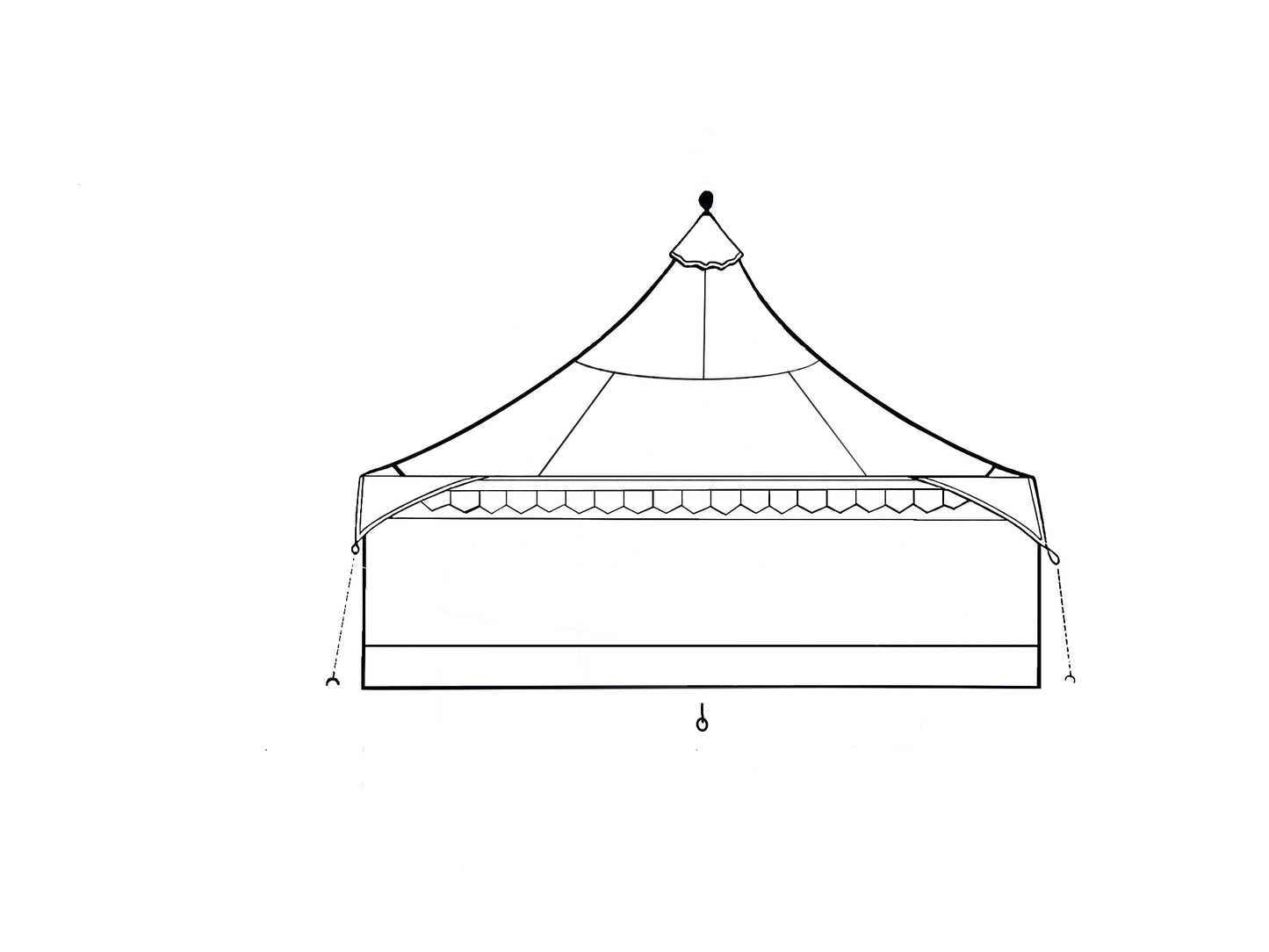 What Makes Oakenfoot Faire Tents Unique?
Fit For Budget

All of our tents are reasonably priced and are built utilizing both traditional and modern methods. Because of this, they are unique and include benefits like ease of setup and takedown.
Ideal Weight

Due to their modest weight, our tents are simple to move. We always interact with clients professionally, ensuring their needs are met within the agreed-upon time limit.
Transparent Workflow

Our team members are transparent when working with customers, offering tailored solutions at reasonable costs.